An accountant is responsible for analyzing and reporting in the preparation of financial statements and tax returns for an organization. They review all associated paperwork and can also provide strategic advice to an organization, investigating ways to make that business more profitable. Accountants can specialize in certain areas, these include roles such as:
A tax accountant or advisor
Staff accountant
Management accountant
Financial accountant
Auditing or insolvency accountant and more.
However, the main duties of an accountant remain the same, save for a few additional specialized tasks.
Accountant duties and tasks can include:
Preparing financial statements and tax returns
Reviewing income vs expenditure of a business
Managing cash flows and budgets
Ensuring organizations are in compliance with appropriate reporting standards and accounting governing bodies
Conducting financial investigations and insolvency management.
These accounting tasks are particularly well-suited to being outsourced as they are repetitive and rules-based, requiring a high level of attention to detail. By sending these accounting tasks to an offshore account, you are able to free up your local accounting team's time to perform value-add, revenue generation work.
We guarantee your privacy – your information will not be shared.
What key skills and qualifications make a great accountant?
Accountants need to be skilled problem solvers just as much as they need to be good with numbers. By analyzing and interpreting financial statements and documents, they become valued assets to an organization. They possess in-depth financial insight and background information about an organization's projects and financial wellbeing, making them valued strategic advisors to businesses. They are also excellent communicators and can translate financial information into reports that non-financial stakeholders can understand for future business decision-making. 
Outsourcing providers recruit accountants the same way an internal, talent acquisition team would. Essentially, they ask the same questions to understand whether these offshore candidates would be able to provide quality payroll support to any organizations:
What experience and knowledge do you have creating financial statements and tax returns?
What are your numerical and data entry skills like?
How do you ensure excellent communication of financial findings between yourself, your team members, and management?
What organization techniques do you use to maintain accounting records?
Provide an example of how you showcased a high level of attention to detail.
What accounting systems are you familiar with?
Do you possess a CPA or CA qualification?
In terms of qualifications, due to the numerical and financial responsibility accountants have to businesses, a higher degree in accounting or finance is essential. Organizations can even find accountants who are accredited by governing accounting institutions for further expertise. This includes hiring accountants who are CPA (Certified Public Accountant) or CA (Chartered Accountant) qualified. Outsourcing companies can help you find the right candidate to meet your organization's accounting requirements, whether they need to be qualified or not.
Benefits of hiring an outsourced accountant
Organizations are able to appreciate the added benefits that come from offshoring accountant duties to the other countries, including:
Increased employee satisfaction
Give your local team peace of mind by relieving them of any unnecessary tasks and sharing the workload with an offshore team or team member. This will help increase employee satisfaction within your business. With your accountant team able to focus on what they were hired to do, you can expect to see a positive change in your working atmosphere.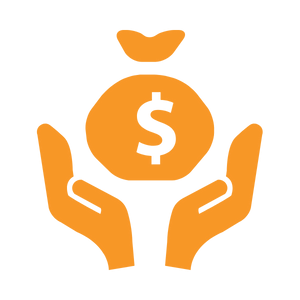 Cost savings
Hiring local staff can prove very costly to an organisation. Hiring an offshore team member that can assist your local team with routine accountant tasks for a fraction of the price will help you control costs in your organisation, saving up to 70% when compared to hiring locally.
Business growth
Hiring full time offshore accountant can help increase profits and supercharge your business growth. By adding extra capability through an offshore team, your local employees will have additional capacity to take on more work and grow your business sustainably.
Efficiency increase
Sending daily, time consuming, repeatable accountant tasks offshore will allow your local team to take on more work. By sharing the workload between your onshore and offshore team, you will notice a drastic increase in efficiency and productivity within your organisation.
What are the costs associated with hiring an offshore accountant?
Outsourcing your accountant services to a different country can represent significant cost savings of up to 70%. At VHP, we offer a simple monthly fee to help you reduce your overheads and focus on growing your business. This monthly fee covers everything: including infrastructure, security, recruitment and training, management, and staff benefits.
For more detailed information on costs, please arrange a business consultation so we can tailor a solution to your business needs.
How does hiring an outsourced accountant work?
This first step is to find out if your business is offshore ready. If the answer is yes, here are the next steps:
Create a job description: to help us hire the right candidate for your role. We can also assist in this process to ensure we are finding the best talent in the current local market. 
Source the right candidate: we source candidates across our database and the local market before presenting you with a shortlist of the most suitable candidates available. 
Screen and interview: You screen, interview and select the candidate(s) you'd like to hire while we take care of the infrastructure set up to get them ready to work for your business. It's usually around six to eight weeks to get your offshore staff up and running.
Onboard and train: your business, along with the operational assistance of our offshore management team, organise new staff onboarding and training, including the use of your systems, any relevant processes and workflows they may need and an overview of your company values and culture. This will help your new team member fit seamlessly into your organisation and assist in effective change management with your existing onshore team members.
VHP is a US-based outsourcing company that offers businesses a distinct competitive edge with offshore staffing solutions. We take the time to understand the hardships our clients face when it comes to recruiting hard-working, dedicated staff. We are adept at finding and recruiting the best of the best in terms of accountants.
Additional accounting roles and services your business can outsource 
So, you've decided to send your outsource accounting tasks so as to take advantage of the benefits of outsourcing. Why not consider embracing offshoring solutions for your other accounting services as well? Take a look at the below list of roles and services that are well-suited to offshoring
Interested in learning more about the outsourcing solutions we can provide for your business?